Growing up in the age that I did, "politically correct" had not been born yet. Back then the saying, " people are starving in China" was often used so children would appreciate the dinner prepared and set in front of them and would eat everything on the plate.
Much has changed in this country but it looks to me as people are still starving in China, as sad as this story is.
I know people in other parts of the world have strange customs but for myself, I will think twice when ordering Chinese take-out.................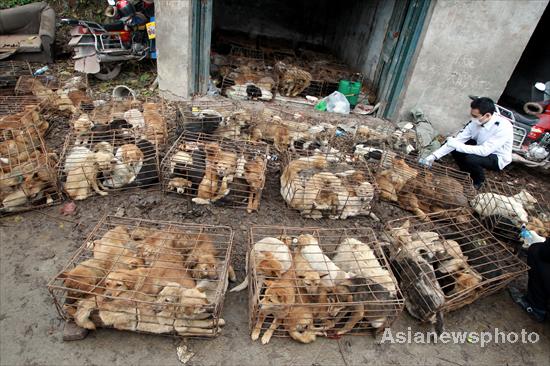 A little dog peers out from a cage after being saved from going to the slaughterhouse by a courageous blogger, Jan 16, 2012. A truck loaded with more than 1,000 dogs heading for South China's

Guangdong

province was intercepted by local law enforcers and volunteers on Monday after a micro blogger posted a plea for help online when he spotted the animals in a truck on the highway. The dogs, some in critical condition, were taken to a rundown pig farm in Changsheng town, Southwest China's

Chongqing

. [Photo/Asianewsphoto]