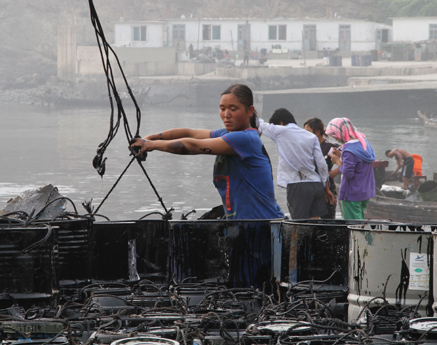 And a picture is worth a thousand words. With so many still out of a job and with so many jobs leaving our country, this article caught my eye and brought to mind one of my mom's favorite sayings
"An Idle Mind is theDevil's Workshop".
I find myself happiest when I am busy. Could this scene have been played out today, in our country, against all the government rules, regulations, and red tape that are now part or our society. China has a long way to go to catch up with the states and freedom, but who is really free these days anyway?
DALIAN, Liaoning - When two crude oil pipelines in Dalian's Xingang port exploded on July 16, triggering a fire and a subsequent spill that turned out to be the worst ever in China, Li Juan, a fisherwoman from a nearby village, was idly chatting with her fellow villagers, who also depend on fishing for a living.
Had it not been for the blast, Li would have sat idle till September, when the fish moratorium got over.
However, the past week turned out to be the busiest this year for dozens of residents of the fishing village of Dayugou.

Since July 19, the villagers have taken their own boats out to sea, right from 7 am to 5 pm, in an effort to clean up the oil spill.

"It's not fun," said the 23-year-old Li, as she moved oil barrels from her boat to a small dock in Dalian Development Area on Monday. "But I'm glad we've managed to clear the sea like it was before (the blast)."

Now, with even a patch of oil difficult to spot on the sea, Li was looking forward to a day of rest on Tuesday.

Over the past week, Li had been collecting oil in a small box, which is usually used for picking up trash. Other fishermen used spades, buckets, ladles, barrelheads, helmets and even their bare hands to scoop out the oil from the water.