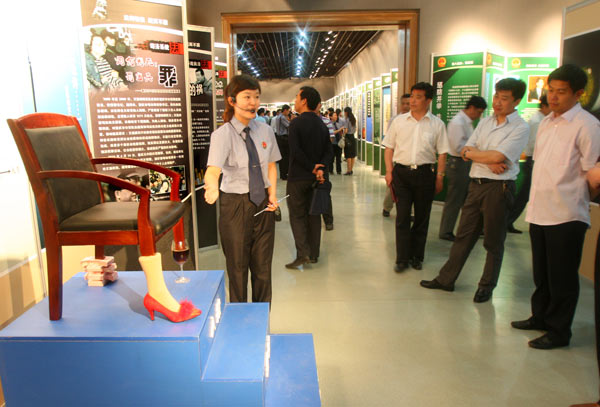 A guide points to a chair propped up by depictions of common methods of bribery: Sex, wining and dining, and cash. The chair was on display at an anti-corruption exhibition in Kaifeng, Henan province, in this file photo.
In 2009, 41,531 officials were charged for their involvement in 32,439 corruption and bribery cases. About 12,897 cases, or about 40 percent of them, were related to bribery, an increase from 12,471 in 2008, according to statistics from the anti-corruption department of the SPP.

In some of the bribery cases, millions and, at times, billions of yuan were involved and there was a significant increase in the number of senior officials implicated, Song said.

Officials from State-owned enterprises, major construction projects, financial and securities, administrative and law enforcement departments, as well as Party and government organizations, accounted for the majority of the suspects, Song said.

Paying for renovation costs, house purchases or abnormal accounts on houses and free trips were some of the ways in which officials were tempted to compromise themselves, along with cash offers, Song said.

Prosecution departments should pay special attention to duty-related crimes involving mass incidents and major work safety accidents, especially in areas like construction, real estate development, land management and mineral resource development, as well as protecting mafia-style gangs, he said.